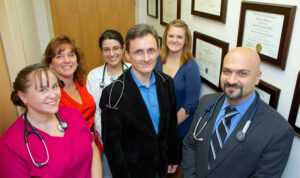 The Heart Group of Syracuse is a unique practice in Central New York. It was founded in 2011 by Dr. Traian M. Anghel and Dr. Jamal J. Ahmed. Our physicians are board certified in Internal Medicine, Cardiology and Cardiac Electrophysiology and are the only Electrophysiologists on staff, with full active privileges at all of Syracuse hospitals (Crouse, St. Joseph's, and Upstate University).
This allows them to provide continuous care, in both the acute and chronic setting, and to match their patients' specific needs with the different treatments, technologies, and knowhow available across institution borders. Their focus is on the diagnosis, treatment, and cure of heart rhythm disorders. Doctors Ahmed and Anghel have performed over 5,000 procedures over the last seven years. These procedures cover the whole spectrum of their specialty including:
Arctic Front CryoAblation
Pacemaker implants
Implantable Loop Recorders
Defibrillators,
Biventricular Resynchronization devices (for Heart Failure)
Radiofrequency Ablation for Atrial Fibrillation (AF)
Atrial Flutter (AFL)
Atrial Tachycardia (AT)
Accessory Pathways and Wolff-Parkinson-White Syndrome (WPW)
Supraventricular Tachycardia (SVT), and Ventricular Tachycardia (VT), with expert use of 2D and 3D mapping and remote navigation (NAVx, ESI, CARTO, Stereotaxis).
Our doctors also expertly use the technologies available from all cardiac device manufacturing companies, as well as of common and advanced device implant techniques (over the wire telescopic subselective implants, venoplasty, anchoring ballons, azygous vein implants, etc). This allows them to optimally match an implanted device and its functionality to the specifics of the patient. At our clinic, in East Syracuse, Fulton and Watertown, New York, Drs Ahmed and Anghel see clinical consults and follow ups and also manage implanted cardiac electrical devices of all types and at all stages (between implant and explant), onsite or via our remote device clinic, either as main providers or in coordination with a knowledgeable referring physician. Personal facts: Our docs are sometimes called "electricians", their cell phones are easily accessible, they love what they do for a living.
The Heart Group Syracuse utilizes interpreters for all patients who are having difficulty conversing in English, Romanian, Urdu or Pashto, through dedicated services from MAMI Interpreters.